Honest Sun Basket Review
Purehealthyliving.com is reader – supported.  If you click on a link or buy something via a link on this page, we may earn commission.
Meal delivery that sends the freshest food possible to your door each week in convenient prepackaged meals. That's the best way to describe Sun Basket. The company prides itself on offering sustainable meat and organic produce, putting them in a class above the competition. Sun Basket provides the best quality ingredients by working with local vendors and farms to obtain the healthiest food available. If your goal is a meal delivery service that provides a farm-to-table experience, this is about as close as you can find. Sun Basket provides you with a great deal of flexibility when it comes to the meals that you receive, letting you mix and match from a variety of meals for your week's selection.
There are Vegan, Vegetarian, Gluten-free, Keto, and Paleo options available for you to love. The menu changes regularly to help keep you interested, but also to help the chefs use ingredients that are currently in season and will taste their best. No matter the type of healthy meal plan you're currently using, you'll be able to stick to it using Sun Basket. Or, if your goal is to adjust your diet to a healthier meal plan, you can use Sun Basket as a great way to get started.
How Easy to Use is Sun Basket?
You can pick from a "family" plan or a "classic" plan, and then you can select from a variety of different diets that the company has designed. After you understand how to customize the meal plans and mix and match ingredients, it's likely that you'll be pretty happy with the simplicity of selecting meals and having them delivered to your home. You can utilize the desktop site or their mobile app to choose your foods and to keep up with the meals that you'd like to receive each week. The app is very nice, as it allows you to make adjustments and stay up to date with the dishes that are currently available, even when you're on the go. The app is a wonderful way to choose your meals and go into the upcoming week with a plan for your food, then you don't have to think about it much more.
Is the Food Good?
Short answer: It's delicious! Sun Basket focuses on sending you food that is as delicious as possible. Their head chef works on recipe creation and helps to make sure every meal is wholesome and incredibly delicious. You'll get to try new ingredients to spice up your evening meal. Even better, you'll be able to clearly taste the difference in these meals, enjoying the fresh ingredients they offer. One of the more delicious options is the Chef's Choice plan. You're sure to enjoy the condiments and fresh sauces that are designed to pair perfectly with the dishes you're preparing. You'll love dishes like chicken with romesco sauce or steak with artichoke butter. While the dishes have a classic feel, they have a fresh new taste.
Menu Sample:
Pan-Seared Steaks with chimichurri & citrus-walnut salad
Dairy-Free, Gluten-Free, Paleo, Soy-Free
Roasted Chicken Breasts & Winter Vegetables with Romesco
Mediterranean, Gluten-Free, Paleo, Soy-Free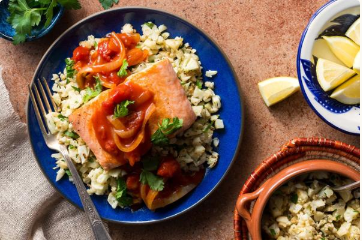 Moroccan Salmon in Chraime Sauce with Cauliflower couscous
Gluten-Free, Lean & Clean, Paleo, Family-Friendly
Hungarian Pork Meatballs with Cauliflower "rice"
Dairy-Free, Paleo, Soy-Free, Gluten-Free
Are the Meals Simple to Make?
Put simply, yes! The team has worked together to create a brilliant list of recipes with complex tastes, but simple cooking processes. Most dishes only take some basic prep and chopping. It's difficult to mess up a meal with the easy to use recipe cards. Read the recipe completely, then follow the steps carefully. You'll be able to serve up your meal in under a half hour.
Is it worthwhile to give Sun Basket a try?
If you're interested in trying new recipes, with new ingredients that you may not traditionally cook with, you should definitely consider the service. Sun Basket's ingredients are some of the freshest available, brought straight to you. It's like getting the farmer's market, delivered to your door each week. The food is great, and after you've adjusted your meal plan, you'll find that you're eating healthier, sustainable foods of a higher overall quality. Sun Basket is one of the highest quality meal delivery services available. You're sure to love how easy it is to cook at home, but create meals just like a professional. The quality is just that good.